HPLSE2021 Submission Guidelines & HUITONG System Submission Introductions
Click to view or download the HUITONG System Submission Introductions.
Author Timeline
10 February Abstract submission deadline (Huitong)
1 March Authors of submitted abstracts are notified of acceptance/rejection
10 March Manuscript submission to SPIE open (Only if the abstract submission is accepted)
Late March Conference program available online
31 March Early bird registration deadline
12-16 April HPLSE2021 is held in Suzhou
16 April Manuscript submission deadline (SPIE)
15 May Authors of submitted manuscripts are notified of acceptance/rejection
Late July Conference proceeding published in SPIE Digital Library

The Proceedings of this conference will be published in the SPIE Digital Library and indexed by
EI Compendex
.
Downloads
Manuscript Template PDF / Word. docx
Conditions of Acceptance
1. An author or coauthor will:
• Register at the author registration rate.
• Attend the meeting.
• Make the presentation as scheduled in the program.
• The presentation and submission must be substantive reports of significant original research with clear English.
• For publish and index, abstract and manuscript submissions are both required.

If you do NOT want to publish your manuscripts in SPIE Digital Library, you can
• Submit an abstract for academic communication and presentation.
• Just attend the conference by registration.
2. Abstract Submissions
Abstract Submission Deadline is extended to: 10 February 2021
Please register and login HUITONG to submit your abstracts.
• A 250-word abstract for technical review by the reviewers. Abstracts should contain enough detail to clearly convey the approach and the results of the research. These may be compiled and released prior to the meeting.
• A 2-4 pages manuscript (if you want to publish the manuscript to SPIE, it's required), may be longer if desired, for technical review purposes that is also suitable for publication. Please upload the manuscript in PDF format as the template required.
• Only original material should be submitted.
• An author or coauthor can only submit a manuscript published in the SPIE Digital Library by acceptance of abstract.
Notification of Abstract Acceptance
Abstract submission will be notified of acceptance or rejection by e-mail by 26 February 2021.
3. Manuscript Submission
Manuscript Submission Deadline: 16 April 2021
• Please submit the manuscript to SPIE Submission System (Open by 31 January) after receiving the Notification of Abstract Acceptance.
• Please be aware of the following before you begin to upload:
No less than 4-page.
Preferred file format is Microsoft Word or Postscript.
PDF format is also acceptable.
File types: .docx, .doc, .rtf, .ps, .prn, .pdf
See http://spie.org/x14101.xml for formatting information.
• Please note that the manuscript might be rejected by SPIE if
- The manuscript formatted to SPIE specifications or does not reach SPIE on time. (SPIE will contact authors whose manuscripts have formatting problems. The authors shall be responsible for correcting any problems and submitting revisions in a timely manner.)
- The manuscript with too high similarity according to Crossref Similarity Check.

Notification of Manuscript Acceptance
Manuscript submission will be notified of acceptance or rejection by e-mail by 15 May 2021.
Review, Notification, and Program Placement Information
• To ensure a high-quality conference, all submissions will be assessed by the Conference Reviewer/Editor for technical merit and suitability of content.
• Conference Reviewer/Editors reserve the right to reject for presentation any paper that does not meet content or presentation expectations.
• Final placement in an oral or poster session is subject to the Reviewers' discretion.
Journal Sponsor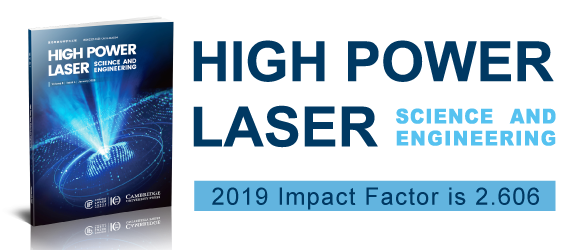 HPL is an open access and peer-reviewed journal publishing high impact results in the fields of high energy density physics, high power lasers, advanced laser technology and applications, and laser component. It has been included in SCIE and Scopus.
HPL is co-published by Chinese Laser Press (CLP) at Shanghai Institute of Optics and Fine Mechanics (SIOM), and Cambridge University Press (CUP). Articles are published online shortly after acceptance.
Contact Us:
Email: hplse@siom.ac.cn