The article entitled "Laser produced electromagnetic pulses: generation, detection and mitigation" was selected as the 2020 High Power Laser Science and Engineering Editor-in-Chief Choice Award paper.
This article was authored by Fabrizio Consoli, Vladimir T. Tikhonchuk, Matthieu Bardon, Philip Bradford, David C. Carroll, Jakub Cikhardt, Mattia Cipriani, Robert J. Clarke, Thomas E. Cowan, Colin N. Danson, Riccardo De Angelis, Massimo De Marco, Jean-Luc Dubois, Bertrand Etchessahar, Alejandro Laso Garcia, David I. Hillier, Ales Honsa, Weiman Jiang, Viliam Kmetik, Josef Krása, Yutong Li, Frédéric Lubrano, Paul McKenna, Josefine Metzkes-Ng, Alexandre Poyé, Irene Prencipe, Piotr Raczka, Roland A. Smith, Roman Vrana, Nigel C. Woolsey, Egle Zemaityte, Yihang Zhang, Zhe Zhang, Bernhard Zielbauer and David Neely.
This article provides an up-to-date review of the problems related to the generation, detection and mitigation of strong electromagnetic pulses created in the interaction of high-power, high-energy laser pulses with different types of solid targets. It includes new experimental data obtained independently at several international laboratories.
Congratulations to all of the associated authors of this work.
Acceptance speech from the first author Prof. Fabrizio Consoli.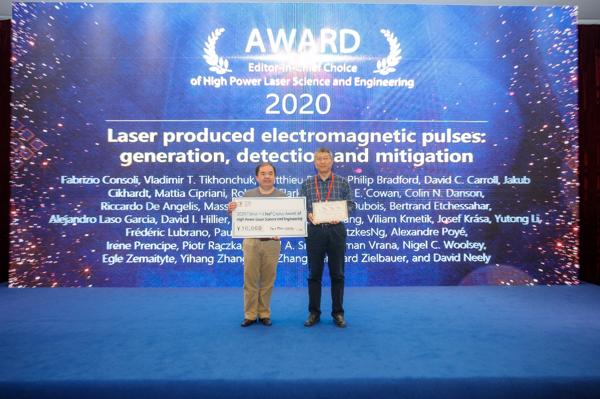 Prof. Jianqiang Zhu, the co-Editor-in-Chief of HPL, presented the award to the author's representative, Prof. Yutong Li, on the conference of HPLSE 2021.
About the Editor-in-Chief Choice Award
The Editor-in-Chief Choice Award-winning papers are selected by Editors-in-Chief of High Power Laser Science and Engineering (HPL). The papers are evaluated based on the quality, downloads, citations, and the importance of the work to the field. The winner will be presented a certificate and a bonus of ¥10,000. The award is sponsored by Chinese Laser Press (CLP).